Hot Shot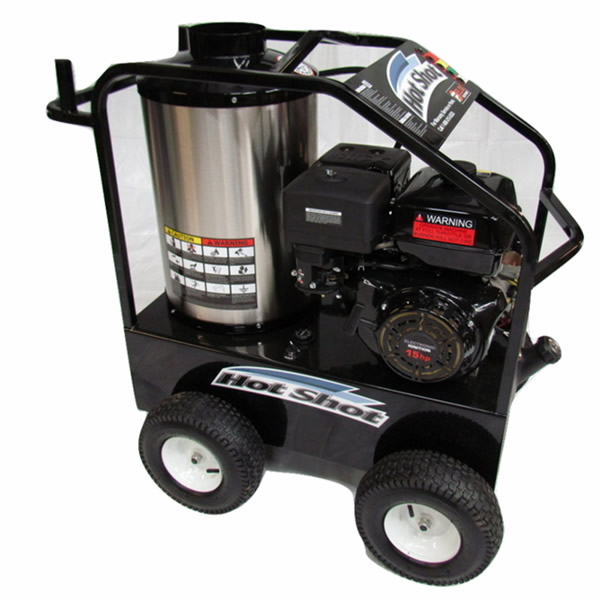 Standard Features
ELECTRIC START with Pull Start Backup
Powder Coated Frames
Triplex plunger pump with stainless steel valves and brass manifolds
Direct drive pump system
Adjustable pressure control valve
11 gauge super strength steel skid frame complete with 10 gal. corrosion-free polyethylene fuel tank
Heat efficient coil assembly is schedule 80 pipe with insulated Stainless Steel coil wrap
50' 3/8" high-pressure hose, gun and nozzle selection
Single lance wand with impact resistant gun
Quality North American made oil fired burners for dependability and serviceability
Pneumatic tires and roll cage design for easy portability
All nozzle attachments come with quick disconnect system
Battery Not Included
The Engine - This 15 HP gas engine is manufactured by the Lifan Company. These engines are very popular now and sold at places like Home Depot. The factory ran its own independent test on this engine by running it at full load (4000 psi) 24/7 for 7 weeks straight only stopping it to change the oil and it passed with flying colors.
The Pump - The pump is a heavy midrange plunger pump with adjustable pressure (stainless steel plungers and valves with all brass head)
The Coil - Schedule 80 black iron with stainless steel coil wrap (not a cheap Schedule 40)
The Burner Manufactured by Wayne Combustion Systems, an Indiana based company in business since 1928
Warranty
5 Years on Pump Head against cracking or warping (other than freezing)
5 Years on the crankcase of the pump
5 Years on the Heating Coil (first year free than pro-rated)
1 Year on Engine
1 Year on Burner/Burner Parts
90 Days on All Accessories - Guns, Hoses, Thermostats, etc.
90 Days on Internal Parts of Pump
NOTE: Returned pumps will undergo a technical evaluation to see if pump was not lubricated, run dry, etc.
Follow all Manufacturers Instructions for Lubrication and proper use of all Motors, Burners, and Pumps.