Wheel Loader Model 1050
The 1050 is built with many features that you may never see in any other wheel loader. First, we start with the fully legal compliant Tier 4 Final Diesel Engine from Kohler, a name you know for quality. Tier 4 Standards are now a must as VW found out in the latest 18 Billion Dollar Fine from the EPA. Many Federal, State and Local Contracts call for only Tier 4 Final machinery to be used on their properties as well.
Engine manufacturers have met this standard using a mix of solutions requiring buyers to learn acronyms like SCR (Selective Catalyst Reduction), DPF (Diesel Particulate Filter), DEF (Diesel Exhaust Fluid) and processes like Regeneration. All of this means time , money and complexity to most owners. Imagine you are just about to finish loading a customer when a Regeneration cycle cripples your work while the operator cooks in his cab on a summer day while the engine heats particulate matter to 600 degrees (F) for 20-40 minutes burning your precious fuel. Oh, and heaven forbid an exhaust part costing $5,000 breaks in the process. So unless you like stressing about whether you brought your DEF fluid with you, or whether it froze in the cab overnight, consider this:
With Kohler's KDI there is
NO Diesel Particulate Filter
NO Diesel Exhaust Fluid
NO Regeneration Cycles
Instant Start down to -4 Degrees (F)
Best Fuel Economy of all 50-60 HP class Diesel Engines
Engine Protection with Self Preservation Modes
We intentionally tried to overheat engine but it would just throttle down and display warnings to shut down. The engine was run out of diesel and we wanted to know what that process was like. A quick couple of presses on the pump button, about 4, and it started on the first try. This motor purrs like a kitten and if it didn't say diesel on it, you may not even know it.
Standard Amenities
Push Button Forward/Reverse
Push Button High/Low Gear
Hydraulic Operated Quick Attach
2 Attachment Hydro Circuits
1st - Momentary or Continuous
2nd - Momentary
Smooth Hydraulics
4 Wheel Drum Brakes
High Back Suspension Seat
Door Open Latch
Joystick Armrest
Heat
Radio (USB/SD card)
Dome Light
Vent Window
Rear View Mirror
Murphy Engine Display
Kohler Diagnostic Port
Self Leveling Bucket Control
Yellow Warning Light
High/Low Headlights with Turn Signals
Work Lights (Front/Back)
Fire Extinguisher
Tilt Steering
Adjustable Armrests
Glass Beak Hammer
Attachment Lock On Valve
(Prevents releasing attachment by accident)
Independent Rear Supension

Optional Amenities
Back Up Camera
Back Up Sensors
Custom Paint Colors
Tire Tread Styles
Rooftop Air Conditioner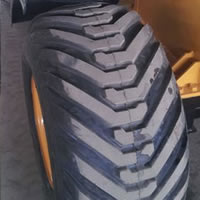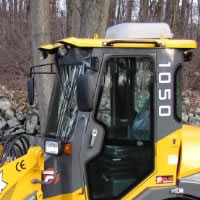 Murphy PowerView Display
The MURPHY PowerView Display is used to give the operator complete information of all engine data. Not only is the basic information displayed such as RPM, Oil Pressure, etc. but a complete Diagnosis Code of any Engine Fault can be instantly seen though the SAE J1939 statndard SPN and FMI codes displayed. Engine faults will illuminate a bright yellow light and severe faults will display red as engine throttles down protecting itself while asking operator to immediately shut off.
Sound from inside the cab
Saturn Block by Stucchi
The 1050 Loader comes equipped with the Saturn Block by Stucchi. This gives you trouble free connection of your hydraulic hoses to attachments. It also provides the CASE DRAIN (3/8 inch) option for attachments which protects the hydraulic motors and cylinders with this circuit. Popular attachments using this drain are Mowers, Augers, basically anything where a sudden stop or pressure overload can occur.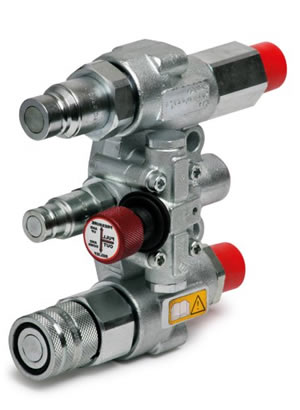 User friendly relief system allows for easy connection / disconnection with residual pressure
Drain the residual pressure before connection and disconnection, allowing the connection without pressure and without effort in order to reduce injury risk
Equipped with ISO 16028 interchangeable size 1/2 male & female parts flat face. Drain line in the middle is 3/8 size male
Kohler KDI1903TCR
Engine
Model
Kohler KDI1903TCR
Max. Power
56 HP& 2200 rpm
Max Torque
165.9 lb-ft & 1600 RPM
No. of Cylinder
3
Displacement(cc)
113.5 (1861)
Compression Ratio
17.3:1
Cooling
Liquid
Emission Certification
EPA Tier 4 Final
Dimensional Specifications
Overall Height
96 inches
Overall Length (With Bucket)
165 inches
Overall Width
73 inches
Overall Operating Height
148 inches
Height To Hinge Pin
120 inches
Dump Angle Fully Raised
45 degrees
Dump Height (With Bucket With Teeth)
95 inches
Reach Fully Raised
34 inches
Digging Depth
25 inches
Wheelbase
67 inches
Ground Clearance (With Standard Tires)
9.8 inches
Angle Of Articulation
35 degrees
Operational Specifications
Standard Bucket Capacity
1 yard3
Loader Raise Time
5 seconds
Loader Lower Time
4 seconds
Dry Weight
6,172 pounds
Weight Standard Bucket / Fueled
7,340 pounds
Weight Super Snow Bucket / Fueled
8,020 pounds
Standard Tires
31 15.5x15 • Optional 12 - 16.5
Drive Train & Hydraulic Pump
Transmission
Hydraulic torque converter
2 speed gear box
Number Of Speeds
2 Forward / 2 Reverse
Max Speed
15.5 MPH
Travel Speed
14.2 MPH
Brakes
4 wheel drum
Pump Type
Pump Output
• Main
• 18.5 gpm (Model CBQLF532)
• Transmission Oil Pump
• 18.5 gpm (Model CBQLF525)
Hydraulic Multiple Valve Flow
18.5 Gal/Min
Fluid Refill
Fluid Tank
13 Gal
Hydraulic Oil Tank
17 Gal
Lifting Specifications
Loading Weight
2,204 LB
Counter Weight / Standard
650 LB